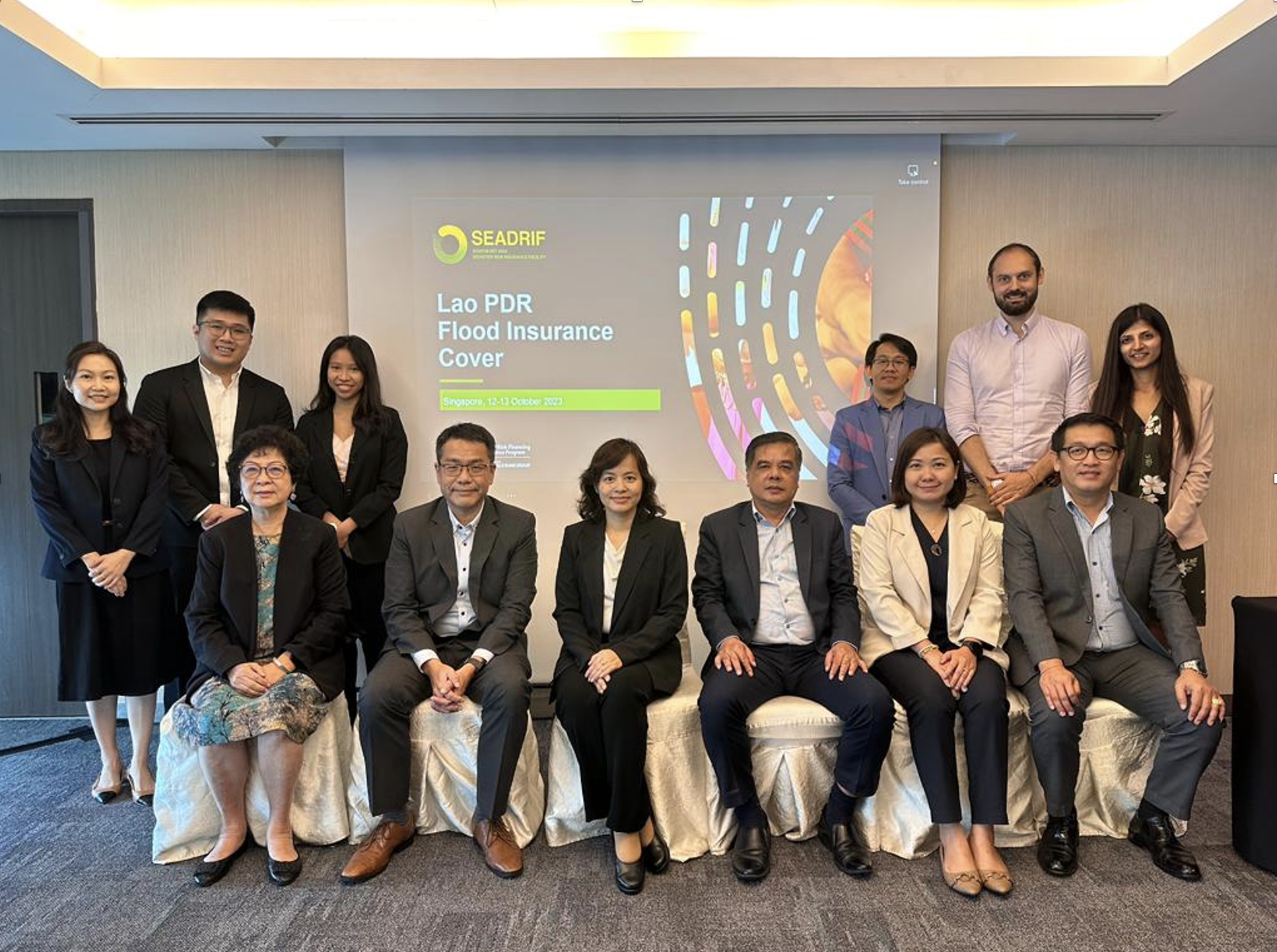 On 12-13 October 2023, The SEADRIF Insurance Company and Lao Ministry of Finance conducted a technical workshop in Singapore to discuss flood risk insurance protecting the Lao PDR. The SEADRIF Insurance Company signed an insurance policy with the Ministry of Finance of Lao PDR on 1 February 2021 to provide protection against flood and other catastrophic events. The 3-year policy is scheduled for renewal in February 2024. In August this year, the SEADRIF Insurance Company made two payouts to Lao supporting flood response and rehabilitation, within just one business day after receiving a notice of loss.
The workshop brought together key government officials from Ministry of Finance and Ministry of Social Welfare of Lao PDR. Representatives from the Monetary Authority of Singapore and the Ministry of Finance of Japan opened the workshop, emphasizing the importance of disaster risk finance in Southeast Asia and expressing their strong support and confidence in the close collaboration between SEADRIF and Lao PDR for this protection. As the lead technical partner for SEADRIF, the World Bank also participated and encouraged the Ministry of Finance of Lao PDR, as a pioneer policyholder, to share their experiences with other SEADRIF member nations.
Key technical and industry partners informed the discussion. JBA, a UK-based risk analytics company specializing in floods, acts as the calculation agent for the flood risk product. Guy Carpenter is the reinsurance broker for the current policy. GallagherRe conducted an independent technical review of the underlying flood risk model and near real-time flood monitoring platform.
The first day of the workshop focused on reviewing the current policy, including lessons learned and the performance of the flood risk model and product over the past three years.
On the second day of the workshop, the government officials, SEADRIF Insurance Company and World Bank representatives discussed premium financing options and the next steps for each party to facilitate the renewal of the Lao PDR policy.
In April 2023, the Ministry of Finance of Lao PDR introduced the National Financial Protection Strategy against Disaster Risks. The renewal of flood risk policy will support the realization of the vision set out in the strategy to strengthen the nation's financial resilience against climate risks. We are dedicated to keep supporting Laos in building a more sustainable and resilient future.