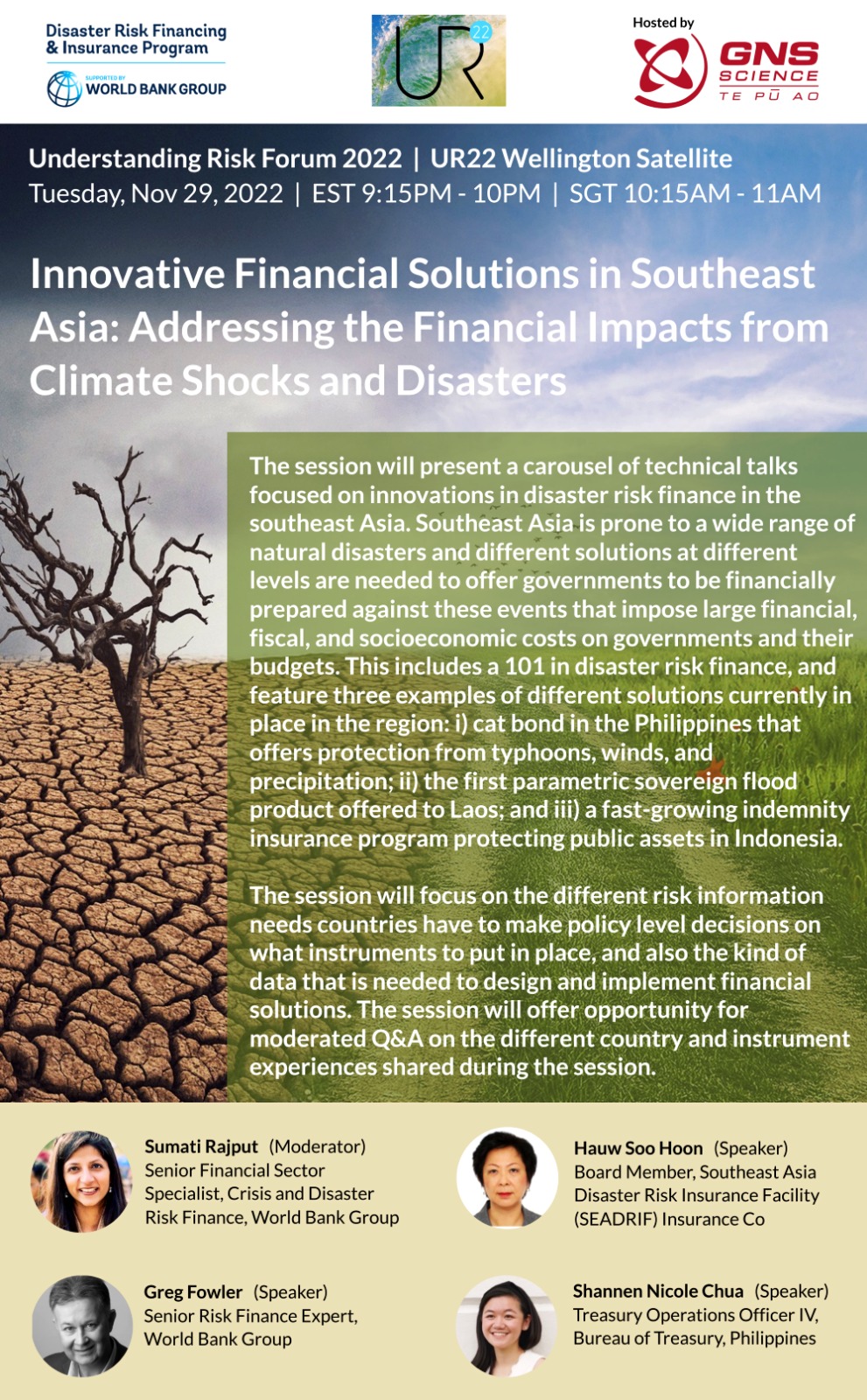 The Understanding Risk Global Forum 2022 (UR22), which took place from 28 November to 2 December 2022, offered a creative environment in which to discuss the latest research, innovations and emerging ideas in disaster risk management. The theme 'Riding the waves of risk', focuses on climate and disaster risks in a multi-hazard world.

UR22 was a hybrid event with the main location in Florianopolis, Brazil. Satellite events took place in London (UK), Wellington, (New Zealand), Niamey (Niger) and British Columbia(Canada). UR22 had 600 attendees in Florianopolis, 100 at each of the satellites and 1500 on line, a total of 2500 attendees.

The hybrid event at Wellington represented a unique opportunity for representatives from government, academia, international institutions and private sector in New Zealand and Asia Pacific to share knowledge on the latest developments and local perspectives in disaster risk management. 

On 29 November, Sumati Rajput (Senior Financial Sector Specialist, World Bank Group) moderated virtually a panel session on "Innovative Financial Risk Solutions in Southeast Asia: Addressing the Financial Impacts from Climate Shocks and Disasters" at the Wellington satellite event. She was joined by Soo Hoon Hauw-Quek (SEADRIF Board Chair), Shannen Chua (The Philippines Bureau of The Treasury), and Greg Fowler (Senior Risk Finance Expert, World Bank Group). The session presented a carousel of technical talks focused on innovations in disaster risk finance (DRF) in Southeast Asia. This included a 101 in DRF, and feature three examples of different solutions currently in place in the region: i) CAT bond in the Philippines that offers protection from typhoons, winds, and precipitation; ii) a fast-growing indemnity insurance program protecting public assets in Indonesia; and iii) the first parametric sovereign flood product offered to Lao PDR by SEADRIF Insurance Company under the regional platform SEADRIF.
The session focused on the different risk information needs countries have to make policy level decisions on what instruments to put in place, and also the kind of data that is needed to design and implement financial solutions
Recording of the sessions will soon be available online.